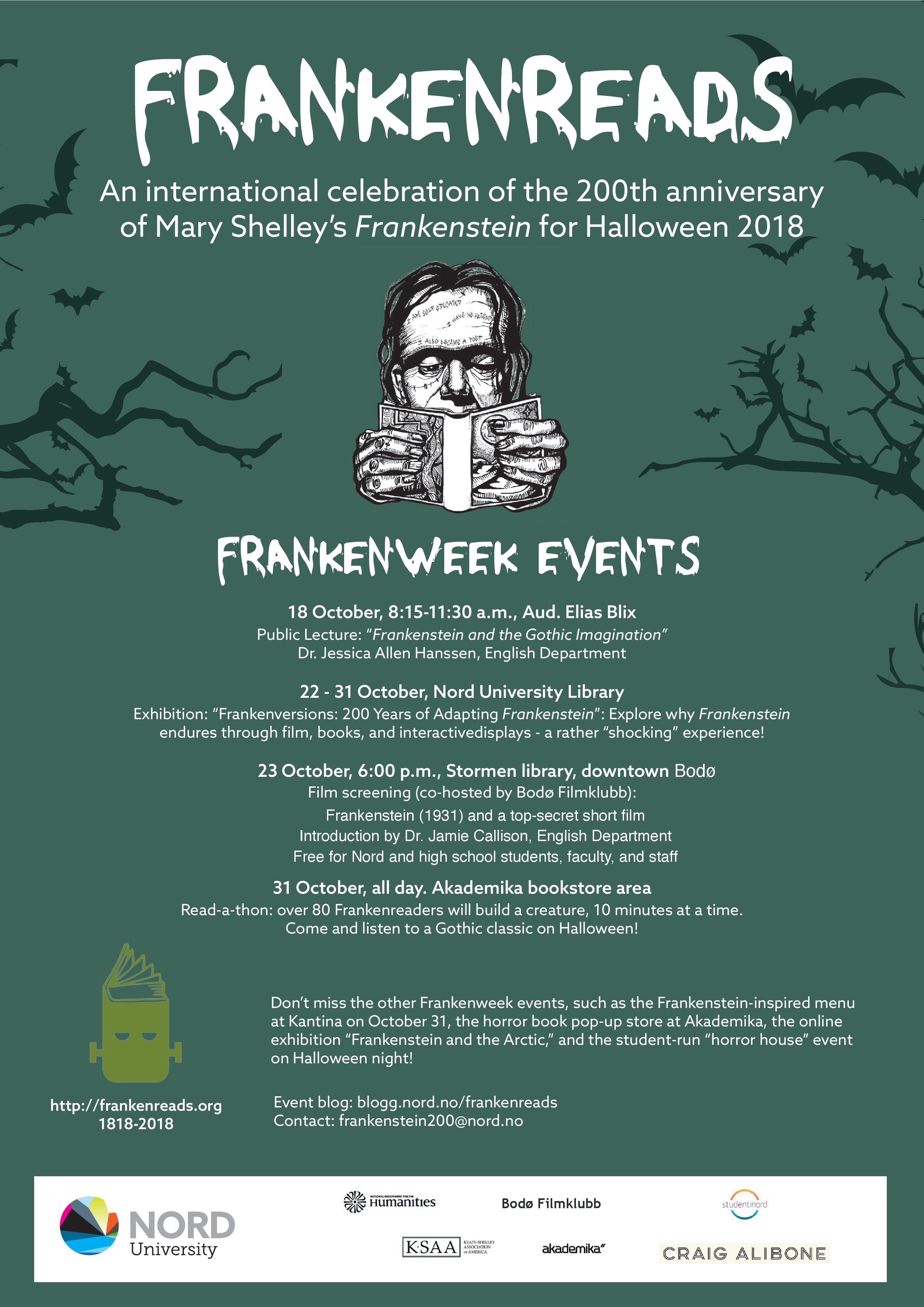 18 October: (Nord University room A13 Elias Blix, 8:15-11:30 a.m.): Public Lecture: Frankenstein and the Gothic Imagination, by Dr. Jessica Allen Hanssen
22-31 October: (co-hosted by the Nord University Library) Online and In-Library Frankenstein Exhibitions
22-31 October: Frankenstein and other horror books, including graphic novels, available for purchase at Akademika Bookstore
23 October: (Stormen Library, downtown Bodø, start time 6:00 p.m.) Film Night with Bodø Filmklubb. Double Feature – Frankenstein (Universal, 1931) and a top-secret second short film. Introduction by Dr. Jamie Callison, Nord University
31 October: (Grey Zone, all day) Frankenstein read-a-thon: over 80 students, faculty and staff at Nord University and local Bodø high schools will build a creature, 10 minutes at a time! Cakes by Craig Alibone @12 p.m.
31 October: (Main Cafeteria, all day) The cafeteria will serve menu items inspired by the various settings of Frankenstein.
UPDATE 10 December: Unhallowed: A Research Seminar (with Nord University research group Culture, Arts, and Humanities in Education). Guest Speaker: Dr. Brecht de Groote, University of Leuven, Belgium.
Late 2018/Early 2019: Frankenstein 200: A Literary Celebration, a special issue of Litteraria Pragensia, will be published, featuring 9 new critical essays on the novel. Co-edited by Dr. Jessica Allen Hanssen, Nord University, and Professor Cassandra Falke, University of Tromsø.