Five-Year Master of Education with Specialization in English (MAGLU)

Description
Society needs committed and creative teachers with an interest in learners. Nord University offers teacher education for the primary school (grades 1-7) and lower secondary school (grades 5-10) in order to give future teachers an excellent starting point for one of the most important professions in the world. Teachers are important and highly skilled people who will prepare students to face a society in constant change, development and sometimes upheaval. Fortunately, a teacher has varied work tasks where no two days are the same. Norway requires all new teachers to gain a master's degree, in order to raise the overall prestige and level of teacher professionalism and to address the increasing complexity of the twenty-first century.
In the five-year master programme, general pedagogy and early childhood development are compulsory subjects. In addition, students choose two, three or four teaching subjects. Either Mathematics or Norwegian plus one elective for grades 5-10, and both Mathematics and Norwegian plus one elective for grades 1-7. English is a popular elective, especially as English is an obligatory school subject in Norway beginning from first grade. The degree programme is firmly rooted in the Norwegian National Core Curriculum, which outlines values and principles for primary and secondary education, as well as emphasizing research-led teaching, in-depth learning and critical thinking. Teaching practice is central, and all student teachers will complete an extensive practice period supervised by experienced teachers.   
Students who choose English as one of their teaching subjects can expect to encounter the many rewards of English language and literature teaching in today's challenging classroom, led by an experienced team of educators and researchers. The specialization is guided by the aims of the Norwegian English Subject Curriculum. Whether preparing for teaching in grades 1-7 or 5-10, student teachers learn how to create optimal conditions for interactive and enjoyable life-long learning. The English specialization encourages exposure to and engagement with the rich history and current trends of the English language, with a focus on how age-appropriate texts and teaching methodologies not only shape a learner's skills and fluency but also enable them to consider the vital role English plays in democracy, media literacy, and global issues in the global community. To this end, English also offers student teachers the opportunity for exchange, and in some cases teaching practice, in the UK, the United States, Canada, and Japan, as well as other exchange opportunities.
MAGLU degrees are offered on  both the Bodø and Levanger campuses. For more information, visit the MAGLU 1-7 and MAGLU 5-10 Study Plan pages on the main Nord University website.
Programme Model
You will find below a list of the English course offerings in the MAGLU 1-7 and the MAGLU 5-10 study models (you can click to expand each course to read a full description). For an overview of the entire degree (including pedagogy, teaching practice, and other subject area requirements), please see the MAGLU 1-7 and MAGLU 5-10 Study Plan pages on the main Nord University website.
MAGLU 1-7
The English programme for Grades 1-7 consists of a coherent, integrated and interdisciplinary course across English 1A and English 1B. The aim of the 1-7 programme is to develop student-teachers' pedagogical, linguistic and intercultural skills using a variety of texts, including children's literature as well as multimodal and digital texts. This approach interweaves theory, practice and reflection, with a strong focus on subject pedagogy and equips student-teachers with the essential tools to teach English in Grades 1-7. It uses age-appropriate pedagogy, facilitated by a team with teaching, training and research experience in early language learning and teacher education and is grounded in the Core curriculum – values and principles for primary and secondary education (Overordnet Del) and the Curriculum for English (Læreplan I Engelsk). Furthermore, the course lays the foundations for more in-depth exploration of early language learning for studies at the master's level.
The programme is based on the following overall themes:
This course develops students' communicative and intercultural competence and focuses on English as language, culture, and literature. The course provides insight into both the theory and methodology of English-language education, as well as providing hands-on learning activities applicable to the 1-7 English language classroom.
This course further develops and builds on linguistic, communicative and intercultural competence in English subject pedagogy in primary education through children's literature and other text types, including a mixture of theory and practice.
MAGLU 5-10
English for grades 5-10 is an interdisciplinary programme involving the study of language, literature and English subject pedagogy. English learning means discovering new perpectives on the world and on ourselves, as stated in the Læreplan i engelsk 2020, and this is how the subject of English is understood in MAGLU 5-10. Experienced researchers in language, literature and teacher education support student teachers in acquiring a sense of mastery in English – students reflect on real-world pedagogical issues both orally and in writing, learn to use sources critically, and develop empathy and critical literacy through inspiring readings in non-fiction, narrative, poetic and multimodal textual formats. Motivating teaching approaches that are explored and tried out on campus include ecocriticism, drama methods, the interface of language and literature, creative writing and global issues – for the diversity of our global times, as reflected in the Norwegian core curriculum, demands in-depth learning.
The programme is based on the following recurring themes:
International Exchange Opportunities
English teachers are, by definition, interested in the larger world and in learning more about other peoples and their cultural identities, and thereby learning more about themselves (intercultural learning). In cooperation with the Norwegian Study Centre, MAGLU students have the chance for a week-long study trip to England, where they will learn about diverse themes in education from experienced UK lecturers, both inside and outside of the classroom, and frequently including school visits. We also encourage all qualified third-year MAGLU students to consider a semester or year-long exchange; many of these include options for teaching practice. Our international exchange partners include Augustana University (USA), University of York (UK), Seinan Gakuin University (Japan), as well as various Erasmus+ and consortium agreements. Additionally, MAGLU English students qualify for specially funded exchange opportunities with Canada; the CANOPY Project supports students on exchange to Queen's University in Kingston, Ontario and the ELLiL Project supports students on exchange to Bishop's University in Sherbrooke, Quebec.
For a complete overview of opportunities, students can consult this MAGLU International Exchange booklet or can contact International Coordinators Charlotta Langejan (Bodø) and Kaja Skårdal Hegstad (Levanger).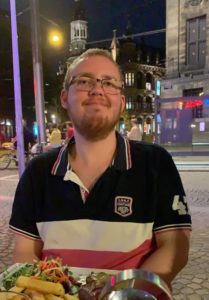 I took an exchange semester in The Netherlands, in the city of Zwolle. Here I attended a program called "Children and Media" at Windesheim University. Staying abroad for several months was a unique maturation process for me and I have never felt quite the same again. Your eyes are really opened to the world and you start seeing just how vast it is. For an English teacher it simply feels right and reinforcing to have this "global" mindset. – Adrian Lorentzen, MAGLU English