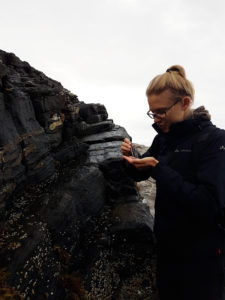 I am an evolutionary biologist studying processes generating biological diversity – adaptation and speciation – and particularly their genomic basis and spatial patterns. I obtained my PhD from Eawag / ETH Zürich in Switzerland, and went on to be a postdoc at the University of Sheffield (UK) and IST Austria. I am currently a guest professor at Nord University.
In my work I combine field surveys, morphological and behavioural phenotyping, analyses of various genomic data sets, and computer simulations / theory. I use the marine snail Littorina saxatilis as a model system. L. saxatilis occurs on rocky shores and in many locations has evolved two distinct ecotypes, adapted to wave-exposed vs. high-predation habitats.
Currently we are testing whether these ecotypes also occur on the Norwegian coast, and we compare ecotypes in L. saxatilis to those in a sister species, L. arcana. In the future we will look into physiological adaptations to temperature and other stressors in the extreme rocky shore environment.