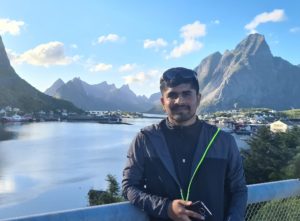 Setting a goal to pursue a lifelong career, my interest towards Aquatic life made me choose fisheries. I was fortunate enough as a graduate to have found exhilarating joy in academic research in Fisheries Science (BFSc) from the College of Fisheries in Mangalore (India), where I mainly studied production and conservation aspects of fisheries.
I obtained my Master's degree with a specialization in Fish Genetics and Biotechnology from Central Institute of Fisheries Education -ICAR, Mumbai (India), where I worked on Developing a DNA vaccine delivery route to shrimp against WSSV virus.
Currently, I joined Joost Raeymaekers's lab as a Ph.D. fellow at Nord University. Now I'm working on epigenetic modes of adaptation in three-spined and nine-spined stickleback. Also, I'm planning to investigate the role of the intestinal microbiota in establishing new ecological niches.